The ScientiTour is an event held every month on the Paris Scientipôles territories partners. On this occasion RefundMyTicket and 12 other startups came to mark their entry into the acceleration program and sign their loan agreement (€ 60k loan of honor at zero in July).
Every company pitched his project : 1 min 30 for reproof, before the public (institutions such as the Ile de France region, entrepreneurs, private partners). The ScientiTour also aims to develop professional networks : development tool for the growth of young innovative enterprises. Thus, as part of a Speed ​​Meeting, the winners were able to meet in individual meetings other contractors, public and private partners. The event was concluded with a moment of conviviality.
13 startups are therefore came to sign their loan contract, broken down by different sectors :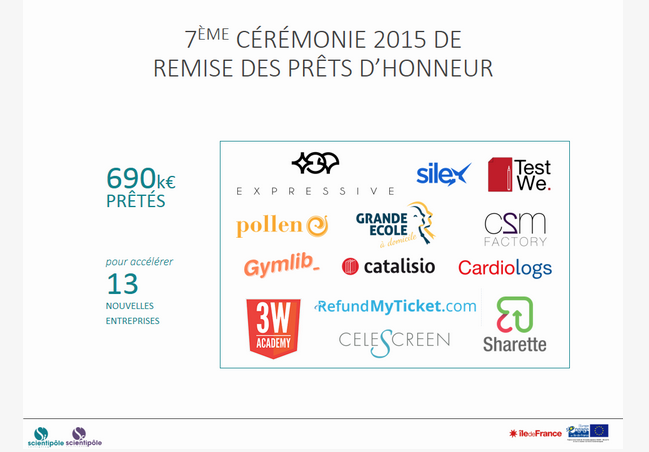 Testwe is an application for paperless securely subjects of examinations on students' devices.
Gymlib platform is booking tickets for sports halls without obligation and at the best price.
Jygo SAS creates Sharette, a new collaborative way to move that combines short carpooling and public transportation to transit.
GEAD is the Great School At Home that allows families to find the right teacher adapted to the profile of their child for lessons at home.
Digital business of the future
C2M Factory creates, manages and conducts selective online stores through its management platform dropshipping products on behalf of its clients.
Claim SAS creates RefundMyTicket an automated platform managing the claims of air travelers in case of cancelled or delayed flight.
Cardiologs Technologies develops artificial intelligence that automatically interprets electrocardiograms (ECG).
Celescreen offers an innovative alternative method of measurement and in vivo characterization of systemic toxicity.
Catalisio develops monitoring solutions to track the performance of digital marketing campaigns (SEO / SEM)
Silex Technology France creates a semantic analysis and matching unique subject of a research program in partnership with INRIA Sofia Antipolis (WIMMICS team).
Connected and robotic objects
Pollen AM creates the first 3D printer produces fully functional objects: multi-material, integrated finishes, all without post processing.
Cultural and creative industries
3W Academy is a training school web developer and integrator business.
Expressive is a manufacturer of hardware and software for professional and amateur musicians of music production.
Scientipôle, accelerator dedicated to innovative startups in the Ile de France offers funding and support growth. Bringing a powerful community, Scientipôle aims to help young innovative companies reaching € 1M annual turnover in 3 years maximum. Scientipôle was involved in the launch of startups such as BlaBlaCar beautiful, Rue89, Run My Process, Alkemics, Ynsect, Naskeo, Novapost, Dataïku, Airinov, Deliver.ee, Damae Medical, Softcorner, Prestodiag …