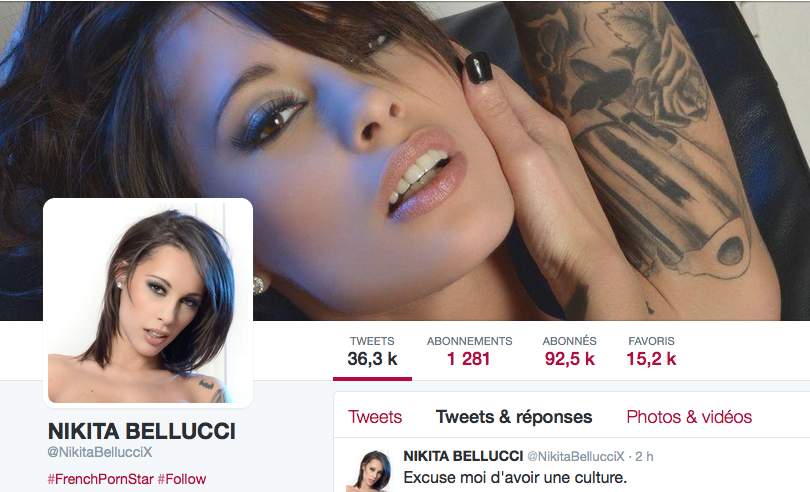 A cancelled flight, the tweet of the year
As she was about to board a Transavia plane, it was cancelled, not one but four times. Not glad with this flurry of bad news, the adult film actress decided to make it known by tweeting :
"Possible to have information on the flight TO3743? Cancelled 4 times since this morning @transaviaFR and no info in Budapest."
And that's when the unthinkable happened … One of the airline's community manager, thinking at this time writing the tweet of the year, tried the all out with this touch of humor strongly disapproved :
"@NikitaBellucciX Flight scheduled for 2:30 p.m. It's just that with you we prefer when it lasts ;). Good day, I remain available 🙂"
At this point, no one knows what to expect. But finally …
Bad joke
As you can guess this response, inappropriate, was clearly not to the liking of the main interested. By the way she perfectly made them understand it with a tweet … let's say "lovely".
The excuses of low cost airline did not take long course:
"@NikitaBellucciX I'm sorry for this bad joke. 🙁 I was just trying to lighten the mood. Sorry again, it starts fast."
But eventually many unnecessary:
"I have nothing else to do to be in humor while you're incapable of anything ? @transaviaFR"
A discussion so inflamed … But it did not end like this for the airline, since the actress Nikita Bellucci ruled:
"The delay ok. Disrespect ? Never."
Finally, Transavia should quickly deal with this delay problem. The only traces of the conflict today are the waves of insults of the actress' fans about the airline, which never end.
Low-respect airline
This story raises many questions. Obviously the low-cost airline spent his rights by allowing thus answer to the actress this way. The fact she is known and moreover, in an environment like X movie, is not enough to justify such behavior.
Perhaps the Transavia communication department has nothing to do with these multiple cancellations but it should have become aware that a not content customer is a customer and not an opportunity to create buzz on social networks.
In any cases, if the situation Nikita Bellucci seems familiar to you, do not hesitate to turn to us ! Service guaranteed without any bad jokes. 😉